BREEZE -YONGSAN INTERNATIONAL BUSINESS DISTRICT R2 BLOCK -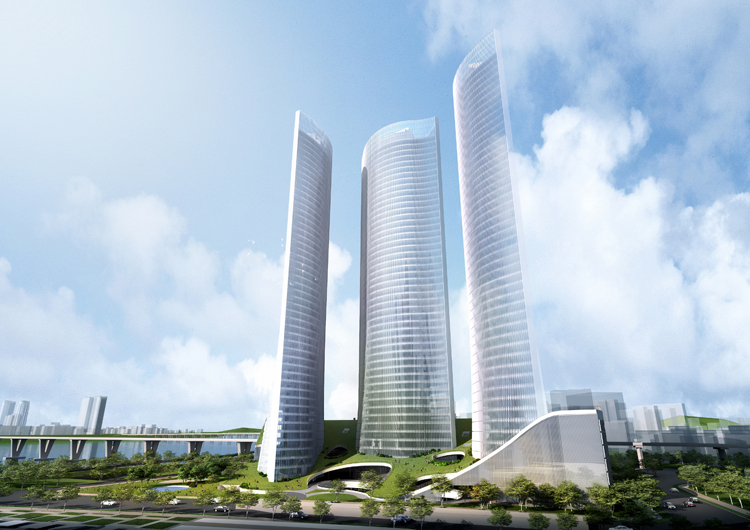 Three 47 story residential towers with 7-story podium are located at the outer west edge of the Yongsan International Business Development in Seoul . In close proximity of the waterfront R2 site offers unintimidated views of the Han River. The Han River becomes the main point of reference at the design process. The shape of the river follows geographic parameters. The shape of the towers is defined by the views it provides to and from the river to evoke the impression of a fabric softly moving in the breeze. The position of towers results from a careful examination of diverse parameters of the urban context: wind force, natural sunlight, and view axes.
The shape of towers is subtly changing from the ground floor level and becomes gradually slender toward 20th floor level and subsequently stays in the same shape. The lower part blends with retails, residential lobbies and amenity area. The upper part mainly consists of residential units. In order to accommodate the requirement of the floor area of each program the lower part of the towers is enlarged and uniquely shaped with a gentle undulating rim whereas the upper part have the same floor plan. Furthermore, the shape with thin edge gives sufficient conditions for structure stabilities against wind load and the wide frontage facade allowing adequate sunlight and flesh air to the interior space.
The podium includes officetel [studio apartment] and retail "forum" in the form of a sloped green hill which is raised above the site area connecting to the small park at the south of the perimeter. The roof of the green hill combines three towers creating the continuous landscape from the site as a secondary "ground floor" and provides the open space for the public with urban activities. Under the green hill, the retail "forum" with a maximum ceiling height of 25 meters is designed between the towers and officetel podium and connects the city side and river front side.

Function
Residential, Officetel and Retail
architects
Riken Yamamoto & Field Shop
structural eng.
Arup Japan
structural mech.
Arup Japan